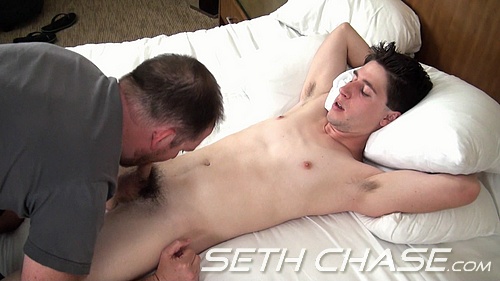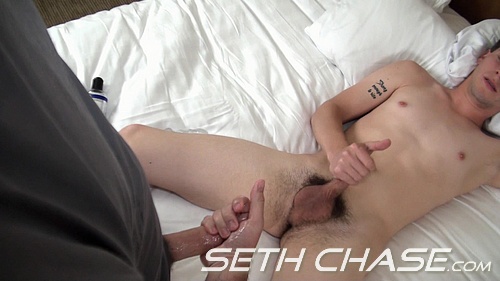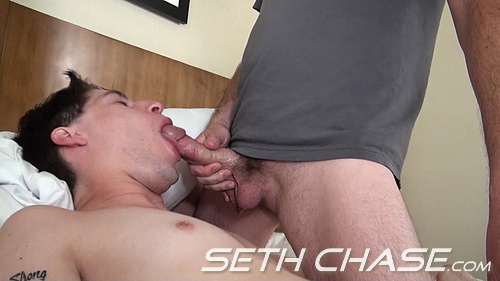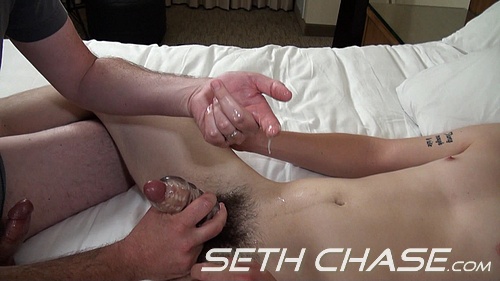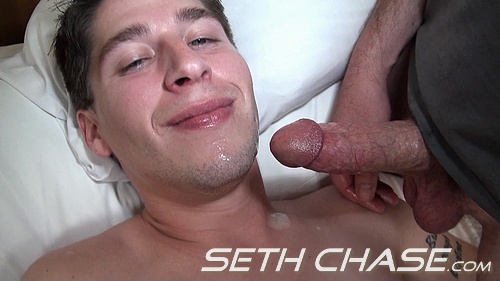 I waste no time and get Barry's cock in my mouth right away. Mouth action, hand action and a little fun with a j/o sleeve too. Having Barry's dick in my mouth gets me horny as fuck. I peel off my shorts and start jacking myself as I suck on Barry's cock.
The plan was for me to service Barry, take his load and that would be that. However, Barry had other intentions. As soon as he see me stroking myself, he motions that he want to suck my dick. Suddenly I'm on my knees fucking Barry cute face. After a few minutes of pounding his throat, I start working on his cock again.
Now I hover over Barry's pulsating cock as he strokes himself with the jack-off sleeve. With the anticipation of warm cum shooting into my mouth, I place my mouth right in the line of fire. Suddenly, streams of jizz shoot out of Barry's cock right into my mouth and onto my lips.
I take Barry's cum spewing cock in my mouth and swallow every drop of semen Barry could produce. I use my fingers to scoop up some droplets of cum that landed on Barry's stomach and smear it all over my dick. I lick my fingers clean of the remaining cum.
Using some of Barry's cum as lube, I jack my dick. I'm totally ready to bust now! I position myself over Barry's face & release a massive load. One stream shoots across Barry's face and into his open mouth. Then a second stream of jizz lands on Barry's tongue. Cum continues to flow out of my cock and directly into Barry's open mouth.
Without a flinch, Barry takes my cum spewing dick back in his mouth and sucks out the cum still oozing out of my shaft. He continues to suck until he's sure my load is totally drained. While grinning from ear to ear, he swallows the cum that has pooled in his mouth.
I seriously had no idea Barry was such a cum-lover. It's pretty fantastic when you get to take a dude's load, then immediately feed him yours.
SIMILAR CUM SWALLOWING SCENES: