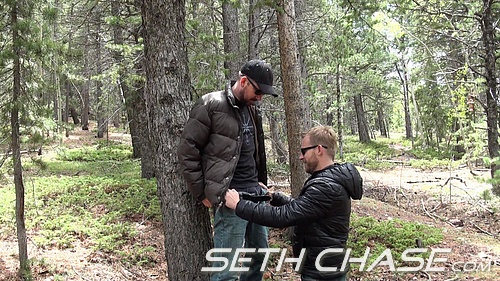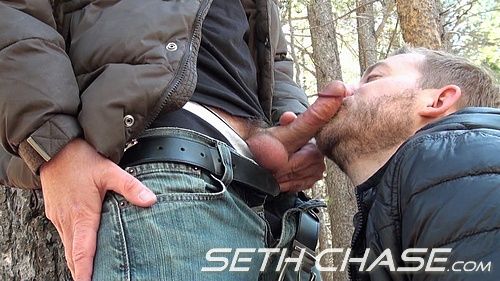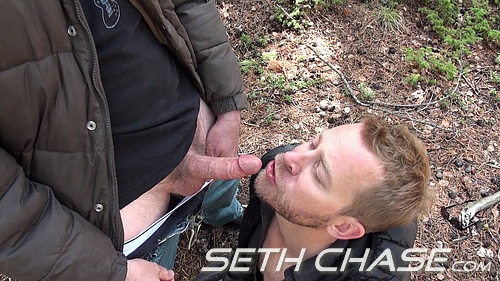 Aaron French and I hit the trail on sunny but cold day. After a short hike, we start messing around and before I know it, Aaron has his lips around my cock.
Getting sucked off, sucking off or fucking outside are some of my favorite activities. Just the thought of someone stumbling upon us having sex is enough for me to pop a boner.
As Aaron sucks my dick he takes off his pants and starts stroking his own cock. I start pre-cumming and this really gets Aaron sucking hard. This clear semen appetizer is really making Aaron hungry for my load.
I haven't cum for a while so I know my load is going to be massive. I feel myself getting closer and closer. I'm really enjoying this outdoor blowjob so I hold off a bit longer.
Suddenly white cum starts oozing out of my dick. I haven't even climaxed yet… I guess I'm so full of cum that it's leaking out even before I'm ready to shoot. Aaron sees the cum collecting on my dick head and licks it up.
The sight of Aaron gobbling down the leaking cum really gets me hot and I'm ready to pop for real now.
I shoot several massive streams of jizz that hit Aaron right in the face. He takes my cum dripping cock in his mouth and sucks out every drop of cum I can produce.
I'm completely drained and Aaron's face, mouth and throat are coated with my cum. This was a fantastic suck off with a massive two-part cum-shot. I can't wait to do it again!
SIMILAR CUM SWALLOWING SCENES: