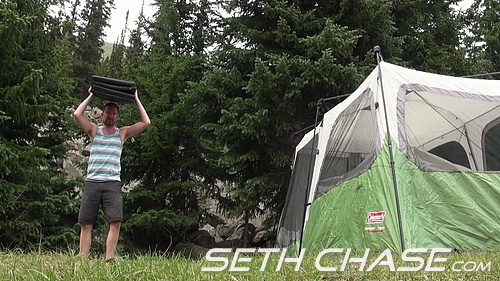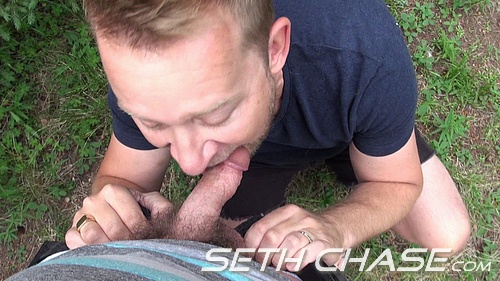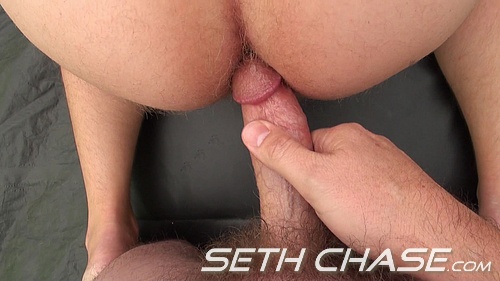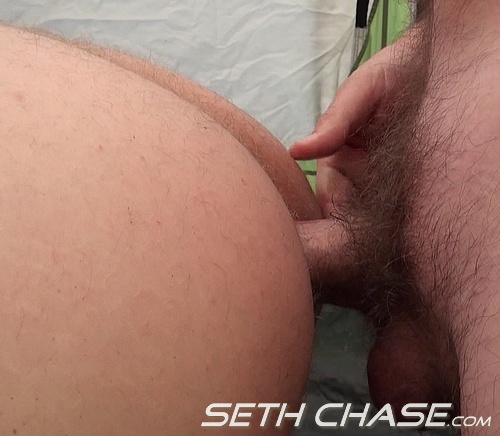 Normally when filming a fuck scene, I'll pull out and cum on the bottom's hole. Then push the cum in with my dick. That makes for a pretty nice visual.
When fucking off-camera, whether it's with Aaron or any other guy, I almost always release my load deep in the guys ass, making sure as much of my cum gets deposited as possible. The exchange of bodily fluids is what fucking is all about… Actually, that's what sucking a cock is about too. It's all about getting to the load, right?
So that's just how we filmed this scene, full-load injection style.
Out in the open, Aaron starts sucking my dick. As soon as I get hard, Aaron turns around to get rammed. Just as I was going to stick my cock in Aaron's ass, the mosquitoes attack forcing them to retreat to our tent.
Using just pre-cum as lube, I slide my cock in. Aaron pushes back on my throbbing, pre-cumming dick, and I start to pound away. Even with several guys whizzing by on ATVs, I don't skip a beat and keep drilling Aaron's ass.
When I'm ready to release my load, I go balls-deep. I shoot my load as deep as I could get it. I hold my cock there for a few seconds making sure every last spurt of cum is planted deep in Aaron's ass. I pump a few times pushing my semen deep in his guts.
The sensation of my full load shooting deep inside of him makes Aaron shoot his own load which lands on the floor of the tent.
I pull my dick out and you can see a giant droplet of cum on Aaron's hole. As you might already know, I usually has giant cum loads. You just know there is a massive amount of fresh cum deep inside Aaron.
Sometimes after taking a load Aaron will push it out right afterward. Not this time. He puts on his shorts and keeps the all of the cum in his ass. He wants every drop of my load absorbed into his body. Fantastic!
SIMILAR FUCK SCENES STARRING SETH CHASE: