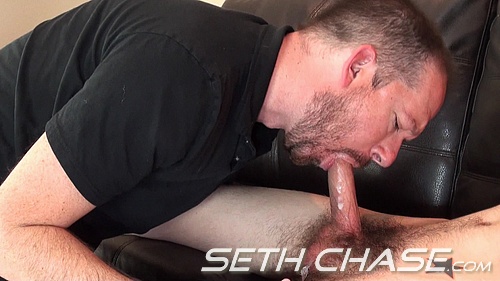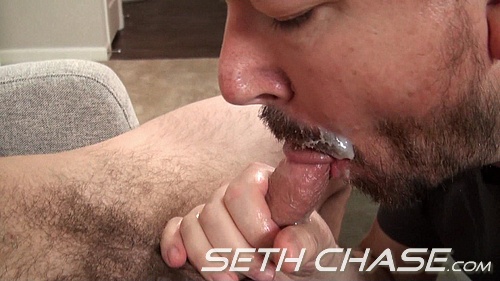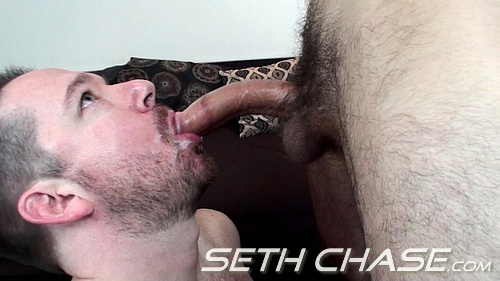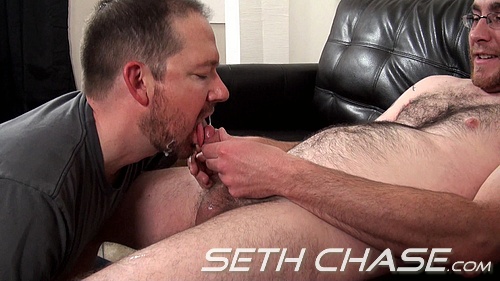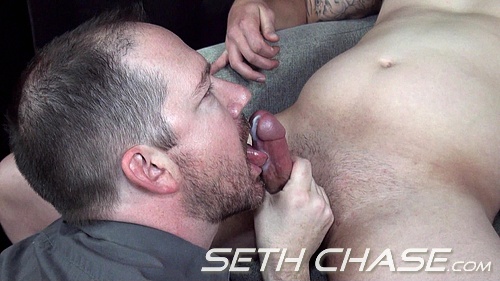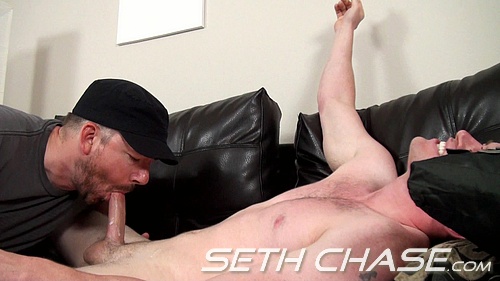 Join me, Seth Chase, as I fully consume 30 loads of fresh jizz in this fantastic cum eating video.
The point of a blowjob is to get to the seed within. I'll never suck a cock without at least tasting and hopefully swallowing the dude's entire cum load!
When I'm sucking cock, all I can think about is getting to the dude's load. When there's a throbbing dick in my mouth, having him spray his man juice on my face, in my mouth and down my throat is all I care about!
There's nothing else quite like the taste of fresh warm cum. The sensation of semen & sperm in my stomach, being digested and absorbed into my body is simply amazing!
The more cum I swallow, the more I want to swallow. It doesn't really matter if the load comes from a straight guy or a gay guy. If they're cute & full of cum, I'll swallow every last drop of their load.
Whenever I suck off a straight guy, I try to watch his face as I suck down his cum. More often than not, he's never been sucked off to completion by another guy and in some cases never been sucked off by anyone at all. Their reaction is often priceless. They seriously can't believe what is happening to them.
Sucking off a gay guy can be just as much fun. They don't freak out and totally get that I'm after their load, especially if they like cum as much as I do.
Sucking down cum is truly one of my favorite things! Without fail, my cock is always hard as a rock as I swallow load after load of cum.
Of course, big juicy loads are my favorite. But really, any amount of cum will do. Whether I suck the guy off to completion, or he jacks himself off into my mouth, as long as I get the dude's DNA inside my body, I'm happy!
Anyone who's ever put their dick in my mouth knows I'll swallow every drop of semen they can produce.
Know that if you ever find my mouth wrapped around your cock, I fully expect you to shoot your load down my throat!
If you pull out before unloading, we're going to have a big problem! The only solution is, you giving me your entire load.
I'm always looking for horny, cum-filled men to suck off & swallow. Gay, straight, single, married, 18 or 48, click here to find out how you can be the next dude to shoot his load down my throat.
I hope you have as much fun watching this video as I did making it!
This entry was posted in
Seth Chase Gay Porn Previews
and tagged
Aiden Carter
,
Alexander King
,
Big Dick
,
Blow Job
,
Chad Hanson
,
Cum Eating
,
Eric Stowe
,
Ethan Ever
,
Facial
,
Group
,
Hairy
,
Hayden Alexander
,
Jacob Mathers
,
Kyle Daggett
,
Outdoors
,
Rick
,
Roman Rage
,
Seth Chase
,
Straight Dude
,
Suck Off
,
Taylor Hamilton
,
Trevor Grant
,
Walker Michaels
. Bookmark the
permalink