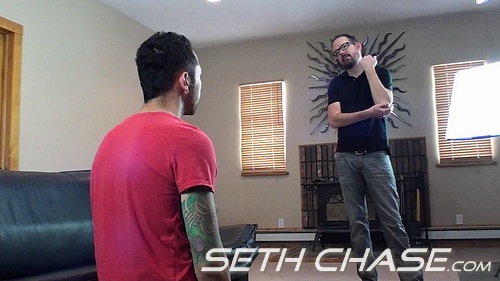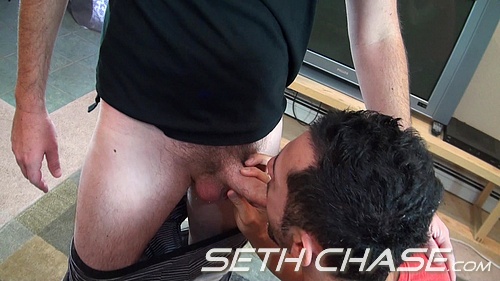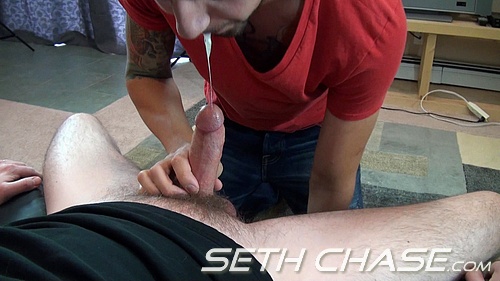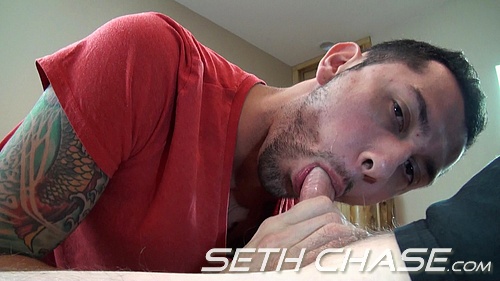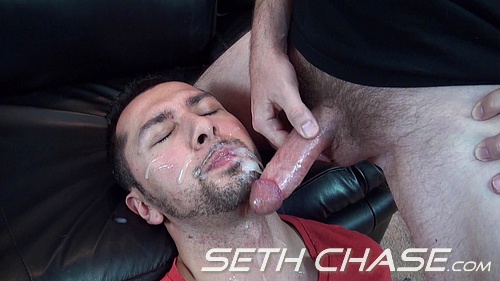 When I first met Jaron Duval, he kept telling me how much he loves watching straight porn where the girl's face get covered in cum. He's always wanted to be on one of those videos but never had the opportunity to appear in a straight porn video. I told him one of my favorite kind of videos is where I plaster a face with my load. The face however, must belong to a dude…
He thought I was kidding at first, then I showed him some videos on my phone. At first he was kind of freaked out. After a few minutes of watching he said he'd be down to do that. That's what I like to hear!
So we head over to our shooting location and get right to it. Knowing how nervous he was, I knew it was best to get started right away. Once I get my cock in Jaron's mouth, I get instantly rock hard. I'm so fucking turned on knowing I'm about to cream another straight guy.
Jaron spits on my cock and uses his hand to jack my boner. He stares at my throbbing dick and says, "I want you to cum!". There's no backing down now as he's guaranteed to get a huge load dumped on his face.
I'm getting kind of close now. I stand up while Jaron lays his head back on the sofa. I jack my cock directly over Jaron's face. My legs start shaking and I start breathing heavy which can mean only one thing, a massive load is about to drop!
A few small spurts shoot out of my dick and land on Jaron's lips. Then an absolutely huge rope of cum shoots across Jaron's face, then another. The white streams of jizz must have been over three feet long!
Jaron opens his eyes just a bit seeing if the coast is clear. Not even close! Cum continues to flow out of my cock. Jaron's mouth, chin and cheeks get completely covered in spunk.
He opens his mouth in order to take a breath. Cum drips into his open mouth.
A covered face and a mouthful of cum. Can it get any better?
I slap my dripping cock on Jaron's lips. He opens his mouth again and licks his lips getting a good taste of my load.
Jaron was fantastic! Not only was he willing to take my load on his face, he even went in for a good taste. He'll soon learn that it's better to just swallow the entire load. So satisfying and less mess to clean up…
SIMILAR CUM SWALLOWING SCENES: