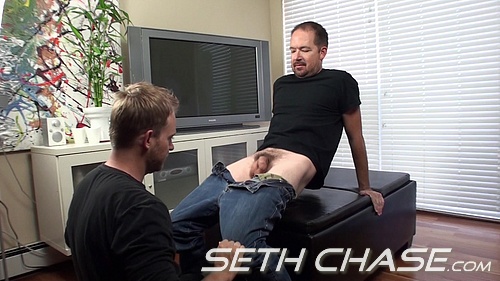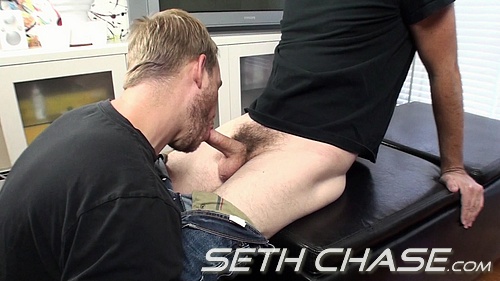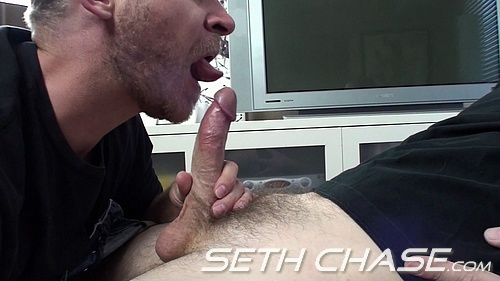 As much as I like taking loads, I love shooting my cum down the throat of a hungry cocksucker just as much. I mean, it wouldn't really be fair if I continue to swallow load-after-load without occasionally giving back, right?
While I've never seen a cum spewing cock that I didn't want to wrap my lips around, I'm just as turned on when a dude wants to drop to his knees and drain my balls.
In this video, we get right to it. No chit-chat, just cock sucking and cum swallowing!
I sit down and Aaron immediately rips away my belt and my raging boner is instantly being serviced.
Aaron, being the expert cock-sucker that he is, has me ready to blow my load really fast. I'm usually pretty good at holding back and letting the cocksucker attached to my cock enjoy it for a while. However, seeing Aaron between my legs, knowing he wants my load really bad, is a crazy turn-on.
I start to shoot and Aaron puts the head of my penis right on his lips. Ropes of jizz shoot into his mouth with some falling back down on my cock.
Aaron takes my cum-covered, spewing dick in his mouth and swallows all the juice. He squeezes my pulsating shaft, milking out and swallowing every ounce of semen I can produce.
Aaron continues sucking until he's sure I'm tapped out. He then licks the cum spillage off his hands ensuring every last drop gets consumed.
I'm totally spent, & Aaron's belly is full of my cum. Perfect!
SIMILAR CUM SWALLOWING SCENES: