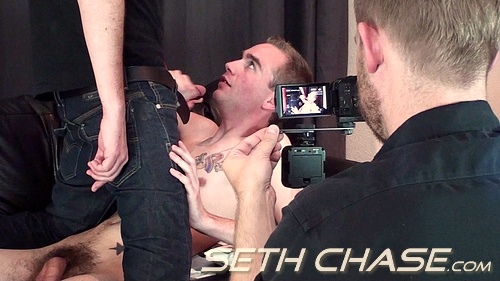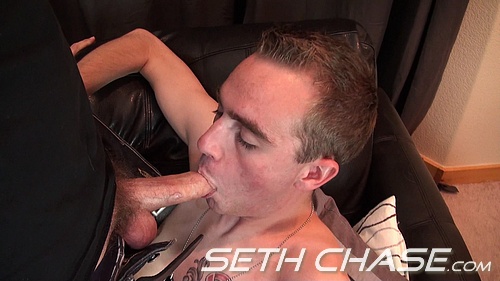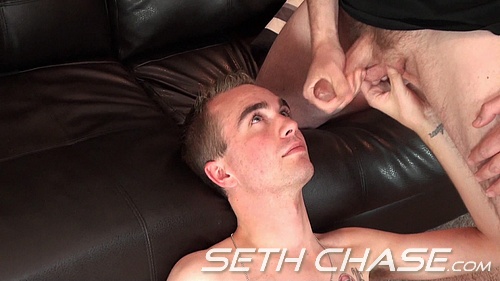 I'm not sure what I like more, taking loads or giving them. It's a pretty amazing & fulfilling experience swapping cum with other men without barriers or limitations.
Just a few seconds ago I worked over Hayden's massive schlong and gobbled down every drop of man-juice he shot out of that huge cum cannon of his (Little Guy – Huge Cock & Load).
Now, with drops of Hayden's cum still dripping from my lips and coating my throat, I'm so ready to bust my nut and make our cum-swap complete.
Hayden lays back as I kneel on top of him as I fuck his face. He does a real good job of getting me hard and close to the edge. Having just swallowed his entire load, I couldn't wait to plaster Hayden's mug with my own.
Hayden works my cock over focusing on finishing our cum-swap. He positions his head perfectly to catch my load. I take over and stroke my dick until I'm ready to bust.
I tell Hayden, "here it comes". He says, "yeah, cum on my face". He closes his eyes and giant ropes of jizz start shooting out of my pulsating cock.
Hayden massages my prostate as I'm shooting which makes this load gigantic. He takes every drop of my load on his face and mouth. He moans with each drop of semen that lands on his face. Every inch of Hayden's mug is now glistening with cum.
Hayden opens his mouth and some of the cum drips onto his tongue. He says, "yummy". Yes, Hayden cum does taste pretty amazing, doesn't it? He gives two thumbs up and is all smiles.
We're both totally spent now. My stomach is full of his cum and he's covered in mine. Perfect!
So now that we've swapped big loads orally, we're going to have to get together again and fuck raw. I plan on planting my seed deep in his ass while raw fucking. I'll definitely swallow his load again. Or even better, I'll totally take Hayden's load in my ass, taking our cum swapping full circle. Stay tuned for that…
SCENES WITH SETH CHASE & HAYDEN ALEXANDER: