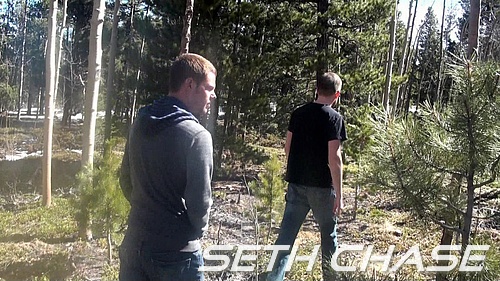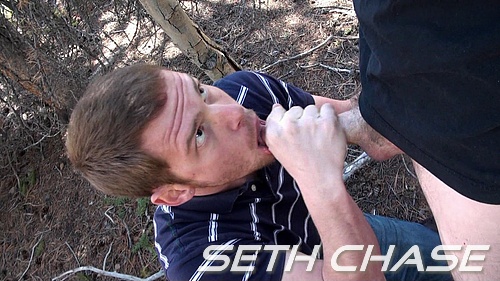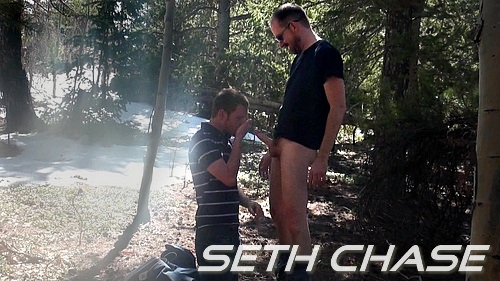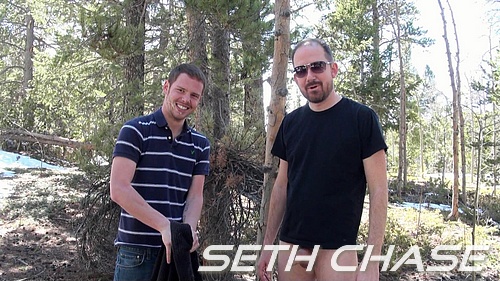 For my 1st outdoor hookup of the season I meet up with a sexy young scruffy redhead, Evan Parks.
Evan and I make our way through the trees and find the perfect spot. It was actually kind of cold (see the snow on the ground) so this is going to be a fully clothed/cock out blow job. I actually think sucking and fucking with clothes on can be really, really hot.
Evan was eager to get started so he rips open my pants and takes my soft dick in his mouth. I'm hard in no time and Evan starts the sucking like crazy. I have to say, Evan is really good at sucking cock. He's takes it all the way down his throat without even flinching. His technique is just about perfect. He so good I'm already having to keep my self from busting my nut.
Evan licks my balls & shaft for a bit then goes back to work on my dick.
Sometimes I'll ask the dude sucking my cock where he wants me to shoot. Some guys just aren't into cum, something I don't get at all… For me, sucking a dude's cock is all about unleashing the tasty treat within. His hard cock is really a dispenser for what I'm really after, a big warm load of cum.
Back to Evan… I'm pretty sure he wants my load real bad, so this time I'm going to shoot right in his mouth without warning and see what happens. Something about the way he's working my cock tells me he's really wants me to shoot it down his throat.
I can't take it anymore. The thought of my spunk being consumed by this redheaded cocksucker does it. I shoot!
The first stream of jizz is delivered to the back of Evan's throat. He doesn't flinch at all. I pull my dick out of his mouth while the 2nd and 3rd streams of cum shoot and land on his lips. Evan lays out his tongue collecting the semen that is dripping from his upper lip and still oozing from my cock.
Evan takes my dick back in his mouth and sucks down and swallows all the cum he can extract.
This is really a beautiful sight! My cum dripping cock being cleaned off by a young hungry cum lover in the woods… Seriously, can it get any better?
We talked afterward and Evan said he'd love to get fucked & take my load. Perfect! The only thing I like as much as shooting my load down a dude's throat is shooting it up his ass.
SCENES WITH SETH CHASE & EVAN PARKS: