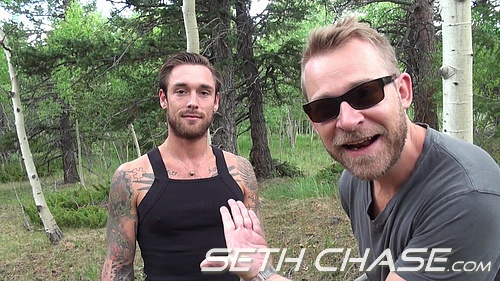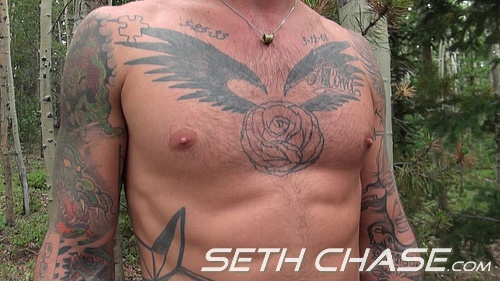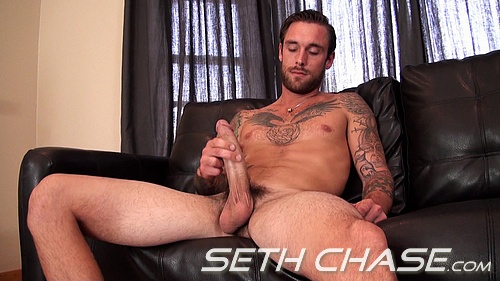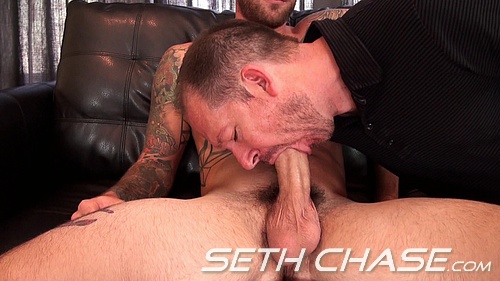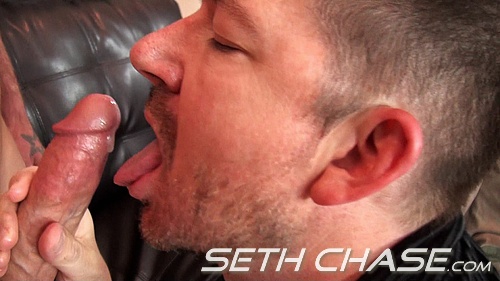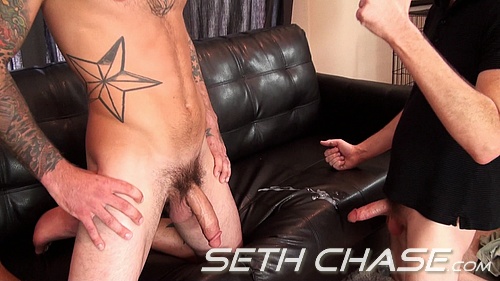 Long a member favorite, super-hot, super-hung, straight-stud Ethan Ever is back for a weekend visit. I was ecstatic when we got a phone call from Ethan saying that he was coming to town. Who could say no to a visit from Ethan Ever?
Ethan arrives & gets settled in. We go for a short hike and have some fun goofing around.
Ethan gets naked in the woods showing off his massive cock and hard body. I didn't think it was possible, but Ethan's looking better than ever! He gets his dick hard which swings with every movement. It's like a giant flagpole coming out of his crotch.
I think it's time to release some of the pressure from Ethan's pole! Ethan sits on the sofa. I sit next to him and take his thick cock in my mouth. I lick every inch of Ethan's package. I move to my knees and suck on his nuts for a bit. As I'm working over Ethan's ball-sack, he strokes his dick.
Could there be anything better? With a mouth full of balls and a giant cock smacking my forehead I can think of only one thing, getting to Ethan's Load!
I start working on Ethan's throbbing cock again. It's not only long but really thick too. It's hard to get it down my throat, but I gag trying.
Ethan gives the signal that he was about to cum. That's what I like to hear!
I take my queue & position myself in the perfect position to collect every drop of Ethan's load. There's no way in hell I'm letting a single drop hit the floor. In my mouth, down my throat & into my stomach is the only place Ethan's cum is going!
With perfect aim, Ethan shoots the first stream of jizz straight into my mouth. I open wide making sure the rest lands on my tongue. I get a good taste of the warm man-juice, then swallow.
Cum is still oozing out of Ethan's cock. I lick it up and take the spewing cock back my mouth, sucking out every last bit. I keep Ethan's spent cock in my mouth until I'm absolutely sure it's completely drained.
Wasting any of Ethan's load was not an option! I'm happy to say, not one drop of cum hit the floor!
I was so horned up by having Ethan's sperm inside my body, I whip out my hard cock and start stroking. With Ethan's cum still coating my mouth & oozing down my throat, I blasts off a big load in a matter of seconds.
This weekend's visit from Ethan saw so much sex & a record amount of cum. I lost count how many times Ethan and I shot our loads. Aaron joined in too and every orifice of both Aaron & myself ended up getting filled with Ethan's straight boy jizz. Look for more of that in the member area.
SCENES WITH SETH CHASE & ETHAN EVER: