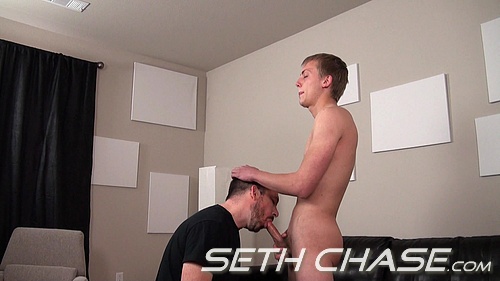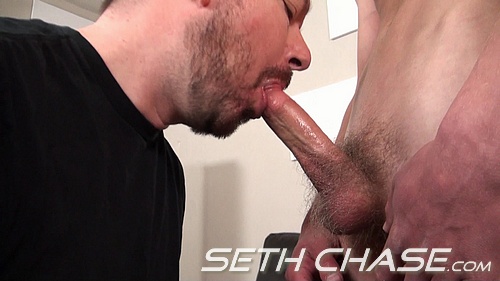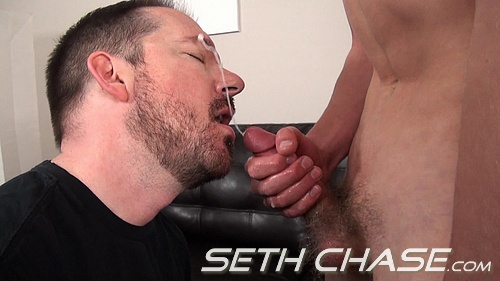 19 years old, straight & really fucking cute. This is Jacob Mather's first time having his cock sucked by another man and his very first time shooting his load in anyone's mouth.
Jacob was really nervous so I told him to just focus on getting his nut off & I'll take care of the rest. Jacob gets right to work getting himself nice and hard. I move in & get a taste of Jacob's cock.
Jacob's dick is the perfect size for sliding down my throat. I move down to his beautiful hairy balls & suck on his nuts for a while, getting a mouthful of his blond pubes.
I'm so excited to get to this young hottie's load that I just have to whip out my dick. I start jacking my cock while sucking on Jacob's sweet pole.
Jacob indicates that he's ready to bust. I position my face right in the line of fire and take a huge blast of spunk, smack in the middle of my face. I open my mouth and collect the ropes of cum spewing from Jacob's pulsating cock.
I take his dick down my throat and swallow the rest of his load. I bury my face pubes-deep, and keep his dick in my mouth until he starts going soft making sure to drain every last drop of semen from his shaft.
The sensation & taste of Jacob's young spunk instantly makes me bust my own load. I shoot cum all over the floor while sucking down Jacob's load.
Jacob was fantastic. He left completely drained and I left completely full of his young spunk.
SIMILAR CUM SWALLOWING SCENES: